Times for Friday, February 23

choose date: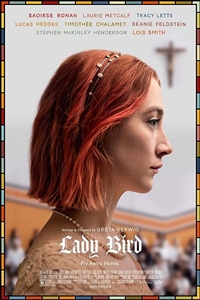 Lady Bird
Rated:
R
Starring:
Saoirse Ronan, Laurie Metcalf, Lucas Hedges, Tracy Letts
Directed By:
Greta Gerwig
Run Time:
1 hr. 33 min.
The relationship comedy stars Saoirse Ronan as Christine McPherson, a rebellious student at a conservative Catholic Sacramento high school who wants to escape her family and small town constraints to go to college in New York.
Showtimes for Fri, Feb 23:
12:00 | 2:05 | 7:00
Nominated for 5 Oscars including Best Picture, Actress, Director & Screenplay!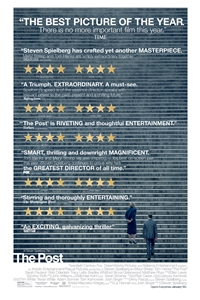 The Post
Rated:
PG-13
Starring:
Tom Hanks, Meryl Streep, Alison Brie, Carrie Coon
Directed By:
Steven Spielberg
Run Time:
1 hr. 56 min.
The unlikely partnership between The Washington Post's Katharine Graham, the first female publisher of a major American newspaper, and editor Ben Bradlee, as they race to catch up with The New York Times to expose a massive cover-up of government secrets that spanned three decades and four U.S. Presidents.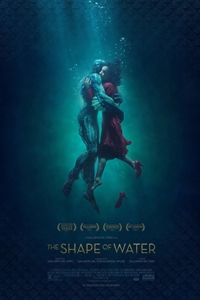 The Shape of Water
Rated:
R
Starring:
Michael Shannon, Sally Hawkins, Octavia Spencer, Doug Jones
Directed By:
Guillermo del Toro
Run Time:
2 hr. 03 min.
An other-worldly fairy tale, set against the backdrop of Cold War era America circa 1963. In the hidden high-security government laboratory where she works, lonely Elisa is trapped in a life of silence and isolation. Elisa's life is changed forever when she and co-worker Zelda discover a secret classified experiment.